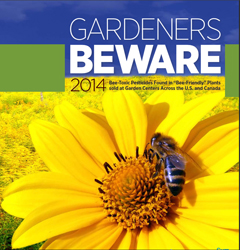 Gardeners Beware 2014 Report
(download and read the report - PDF)
See the Gardeners Beware 2014 video from Friends of The Earth below...(Beyond Toxics was a participant in gathering plant samples)
Also, read Lisa Arkin's latest blog, "Heartbreaking Day for Bees in Eugene during National Pollinator Week"
What you can do to support the campaign:
Ask garden retailers in your community to stop selling neonicotinoids and plants pre-treated with the pesticides.
Practice bee-friendly gardening and create a pollinator-friendly habitat. (See "Cultivating Bee-Friendly Gardens" for details)
Learn what products to avoid to keep bees safe from harmful pesticides (also: Read the 2014 Gardeners Beware report)
Contact your member of Congress and encourage them to support the Save America's Pollinator's Act. AND...sign the online petition to Tell Congress: Stop the pesticide that is killing bees!
Now you can show your support by signing our pledge to become a friend of Save Oregon's Bees...(see who has already pledged!)
Donate to Beyond Toxics or become a member TODAY!
----------------------------------------------------------------------
Read about our BIG wins for bees in 2014-->
---
AS PART OF OUR FEBRUARY 2014 EUGENE BEE SWARM, we're encouraging people to contact Home Depot and Lowe's to demand that they remove products containing neonicotinoids from their store shelves...
MAIL IN YOUR cards and letters directly:
1) Frank Blake, CEO, Home Depot
2455 Paces Ferry Road | Atlanta, GA 30339
2) Robert A. Niblock, CEO, Lowe's
1000 Lowe's Blvd. | Mooresville, NC 28117
Best call in numbers:
Home Depot: 1-800-466-3337
Lowe's: 1-800-445-6937
Other pre-written letters you can use to print out and send in to both Home Depot and Lowe's (provided by Friends of The Earth)
---
Other actions you can take TODAY...
1) Sign the online petition to demand that Home Depot and Lowe's STOP selling bee-killing pesticides to unsuspecting consumers.
2) Read Gardeners Beware, a NEW report by Friends of The Earth revealing bee-killing pesticides hiding in supposedly "bee-friendly" garden plants in America's major retailers.
3) Show your support by signing our pledge and become a friend of Save Oregon's Bees...
3) Call on Oregon businesses to stop using dinotefuran and other neonicotinoid insecticides that we know are lethal to our bees. We know Oregon's businesses can do better, and we're asking them to start using safer alternatives. | Sponsored by Oregon League of Conservation Voters
4) In Congress, a great deal of interest and support has been generated around a bill introduced by Oregon's Rep. Earl Blumenauer. Demand that the U.S.Congress act now to pass Rep. Blumenauer's "Save America's Pollinators Act" (H.R. 2692). | Read more about the Save America's Pollinators Act.
5) Pesticide Action Network petition: Tell EPA's leader: Step up & protect bees!
---
Sign the pledge below and donate $10 or more to become a friend of Save Oregon's Bees! (See the list of names of those who have signed the pledge!)
I support the "Save Oregon's Bees" campaign for bee-friendly, pesticide-free gardens in Lane County.

In the interest of protecting our neighboring families, pets, honeybees and gardens, we the undersigned residents pledge to refrain from using pesticides and any other harmful chemicals (Weed and Feed, Round Up etc.) on our property. We request that our City and County partner with us to commit to pesticide-free policies to protect bees and children from pesticides on all public property.
---
Contribute
Please help us save Oregon's bees! Become a member of Beyond Toxics TODAY!
After you click on the green button (below), simply choose "Save Oregon's Bees" from the "I want my donation to be designated toward" drop-down option. We need and very much appreciate your support for this project!
---
 Beyond Toxics is a 501(c)(3) non-profit organization and all contributions are fully tax-deductible. Please consider giving a gift of a Beyond Toxics membership to a friend or family member!
---
Bee Pledge names:
Zoe Cohen

Deborah Strochlic

Thelma Soderquist

Jill Davidson

Ann Kneeland

Maria Santos

Christina Allan

Gwyneth Iredale

Lindsay Earthsong

Rene Kane

Mirranda Willette

CJ Blaney

Susanne Giordano

Marsha Barr

Suzanne Gascoyne

Madeline Smith

Tricia Clark-McDowell

Diana Abernathey

Dee Tvedt

Christine Zeller-Powell

Lorraine Kerwood

Daniel Johnston

Darrell Jones

Kathy Ging

Lucia Hardy

Rodolfo De Oliveira

Ariel Wills

Susan Forester

Rusty and Annie Olsen

Dianne Ensign

Kathy Arbuckle

David Saul

Adrianne Elsey

Laura Ohanian

Eliza Mclntyre

Donald Gudehus

Michael Sanchez

Sabena Stark

Roxanne Ericson

Sabrina Siegel

Barbara Sklar

Bonnie Nedrow

Jon Davis

Mark Ryzin

Menina Newman

Caroline Skinner

Bill Bezuk

Gary and Kimie Paulson

Liz Veazey

John and Michelle Fletcher

Alice Warner

Phyllis Fischer

Chris Shipp

Lorna Baldwin

Vicki Levine

Patty Kincaid

Judith

Leslie Oldenburg

Lisa Arkin

Eliza McIntyre

John Jordan-Cascade

Felicia Rheaume

Sherry Tester

Linda Page

Camille Leinbach

Olivia Sotelo

Jennifer Harris

Diana Power

Rachel Smith

Heidi Cox

Kimberly Seymour

Irene Wolansky

Jenny Ulum

Arica Duhrkoop-Galas

Sarah Johnson

Mark Wachs

Mark Van Ryzin

David Cummings

Chuck Mitchell

Steven Medlin

Marilyn Lowe

Mackenzie Rivers

Becky McCoy

Nicole Hansen

Rosana Costello

Ron Castro

Keu Ashley

Heiko Koester

Bonnie Richman

Robert Pitrey

Julian Barnowske

Neil Hucter

Tom Hayward

Jane Schneider

Tami Pierson

Kate Hamer

Heidi Tafjord

April Jordan

Dale Kegley

Alison Halderman

Megan Perres

Anne O'Brien

Renee Benton

Barbara Boctlnovic

Daniel Williams-Huston

Holly Tripp

Rachel Nelson

Teresa Kaminski

Babara Framm

Heather Bennett

Oregon Sustainable Beekeepers

Nan Muir

Terry Steiner

Nora Fandino

Joellen Niedich

Dorra Kelleman

Heather Bennett

Winston Maxwell

Alice Warner

Sheila Decker

Jasmine Olson

Lucy White

Tailia Reimel

Lynne Michelle

Erica Mitchell

Patricia Stockwell

Tiffany Smith

Richard Harlan

Charlotte Sahnow

G. Keith Walker

Michelle D'Amico  

Matt Nelson

Diane Garcia 

Linda Reeves

Maggie Cline

Irene Squizzato

April Paulson

Ashish Naik

Tom Woxell

Susan Marston

James Hershiser

Laura Hofer

Donald Hausmann

Jasmine Samples

Tammy Goughnour

Paula Thibaudeau

Phelena Cramer

Autumn Buss

Summer Brown

Gena Kennedy

Elizabeth Grainger

Steph Lawson

Reva Bishop

Catherine Fresia

Susan Harlan

April Lovejoy

Stephanie Humanic

Lori Bonicelli

Phil Warner

Siri Michel

Vanessa Kennedy

Jane Foxglove

Jan Fryer

Laura Jabri

Jacqueline Boissonneau

Melissa Newman

Angie Delisle

Nancy R

Jeanice Deering

Gina Cubbage

Shannon Buck

Andrea McCluskey

Heather Jackson

Tamara Fairbanks-Ishmael

Elizabeth Baumwirt

Rachel Lewis

Linda Hoyt

Kathy Jenkins

Melanie Gamble

M. McCann

Janelle Hopper

Sandra Gray

Debra Nord

Debbra Euston

Stacie Chandler

Emily Copeland

Tom Kerns

Ann Meister

Tyler Knapp

Kalra Anderson

Heather Tucker

Mary Damiani-Cornelius

Elizabeth Kluvers

Misty Skeen

Chiara Reese

Elizabeth Hernandez

Laura Abadie

Cindy O'Connor

Melissa Mutterspaugh

Tracy Kelley

Nicole Badgley

Kimberly Smith

Denise Ruch

Shawn Donnille

Susanne Schroeder

Netti Garner

Jenn and Dave Disciascio

Ingrid Edstrom

Jana Switzer

Charlotte Sahnow

Paris Conwell

Jacque Wardle

Nora Holley

Melody Carr

Angelina Swanson

Charlotte Kreitlow

Shirl Trowbridge

Laura Stice

Barb Oppen

Mary Wall

Stephanie Tidwell

Aimee Young

Gerry Wilson

Gary Rondeau

Jim Luzzi

Steve Stoneburg

Sandra Juliano

Bertie Stringer

Carolyn Breece

Patty Driscoll

Judy Hinson

Kelley Wilson

Robin

Rhonda

Eileen

Tami

Anna Alkin

Heather Goodwin

Romney Taylor

Madalyn Patterson

Thea Albright

Elizabeth Berggren

Janet Nash

Kathy Black

Mysti Frost

Ben Dechter

Susan Lichtenwalt

Martina Miles

Heather McGill

Robert Gillespie

Ken Mullins

Kelly Lyon

Roxanne Neumann

Julia Green

Pat McConnell

Alison Behrends

Shannon Salmon

Anita Engiles

Carrera Ramirez

Linda Resuirs

Ian Holt

Alyson Wade

Bill Gilbert/ Paula Naas

Douglas Wiltshire

Bonnie King

Julie Kirk

Katherine Knoules

Linda Clash

Sarah Nyburg 

Judy Collins 

Amary Taylor 

Amy Carpenter

Kathleen Allgood

Margaret McGinnis

Alison Applebee

Brandi Miss

Lee Zucker

Lisa Bianco-Davis

Will Doolittle

Jyoti Naik

Aimee Mulaner

Russell Pierson

Debra Levinson

Mark Stevens

Marler McGinnis

Brian Kitching

Corrie Coston