Healthy Air Oregon (HAO) is an action-oriented, public education campaign bringing businesses, governments and individual Oregonians together to improve air quality and reduce greenhouse gases. A focus of HAO is protecting Oregonians from benzene, a particularly dangerous part of car emissions linked to cancer and DNA damage.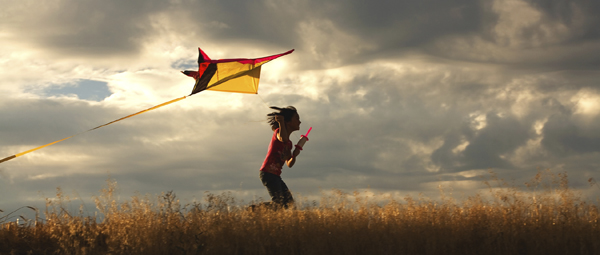 History
In the summer of 2009 Beyond Toxics won a change in Department of Environmental Quality (DEQ) rules that require the use of vapor control devices at gas stations. We worked tirelessly with gas station owners, refueling companies, auto repair shops and health organizations to spur the DEQ to implement a statewide, non-legislative rule change to require emission control devices at the time that underground gas storage tanks are being refilled. This important win for environmental health was truly a collaborative, grassroots effort from multiple sources. As part of that important campaign, Beyond Toxics also won a statewide ban on the practice of "topping off" gas tanks while fueling cars and trucks at gas stations. The Oregon No Top Off law took effect in July 2009.
The Issue
Benzene is an odorless part of your gasoline and is a highly toxic and dangerous pollutant in our air. Oregon's gasoline has especially high levels of benzene, among the highest in the nation. People are exposed to benzene vapors from tailpipe exhaust through breathing or skin exposure. This can lead to cancer and other serious illnesses. Children are the most vulnerable to harm from benzene fumes.
Idling also produces greenhouse gases. Five minutes of unnecessary idling adds .5 pound of greenhouse gases into the atmosphere. A truck adds 1.6 pounds.
Solution
A key component of HAO is to encourage businesses, government agencies and individuals to adopt a No Idling policy. Our HAO project is a proven solution for cleaner air in Oregon's urban centers. The No Idling solution is an easy way for all of us to contribute to a cleaner environment! Just turn off our engine while waiting in parking lots, driveways, drive-through areas and school pick-up zones (except in the flow of traffic).
Why it's important to stop idling
1. HEALTH: Protects our health by reducing the risk of cancer and asthma.
2. CLIMATE: Reduces climate changing greenhouse gases.
3. FOSSIL FUELS: Saves money by not wasting fuel.
At the local level, we are working with local governments (See new 2011 rules established for Multnomah County fleet vehicles!), school districts, businesses (see sample internal business policy for Eugene Water and Electric Board), and individuals to reduce the amount of benzene and other harmful exhaust substances (including greenhouse gas emissions) released during auto idling and refueling activities. We encourage policies that limit unnecessary idling and discourage "topping-off" at gas stations. We also promote the creation of no-idle zones around schools, parks, and public places.
Partnerships Help Us Build a Groundswell of Support
Our No Idling initiative has dramatically expanded the number of business partners that are helping consumers to raise awareness about the cost benefits and public health benefits of ending the practice of idling.
Many new businesses have joined up enthusiastically: from large ones, including Northwest Community Credit Union, New Seasons Market and the Oregon Enterprise Rent-A-Car – to small ones including Moss Hair Studio in Eugene and Elephants Deli in Portland. These businesses promise to do their part for cleaner air, including taking the No Idling pledge and educating their customers.
We continue to make great strides in working with governments to take action for better air quality. The Department of Environmental Quality began the Director's No Idling Challenge! The City of Portland announced their sponsorship through the Mayor's blog and Multnomah County's Office of Sustainability ran several outreach events on the Hawthorne Street bridge (Summer of 2011) to support our HAO goals!
See the slide show - Lisa Arkin, our Executive Director, is available by appointment to present a brief PowerPoint presentation on the HAO campaign and the related issues.
Action
Beyond Toxics, through the work of this campaign, is actively recruiting partners to commit to do what they can to improve air quality in our community. Specifically, we're asking our business and governmental partners to pledge to eliminate--in their normal daily operation--unnecessary vehicle idling and help raise awareness among their employees and customers about the drawbacks of engine idling and the many benefits of following a policy of No Idling while in the flow of traffic.
Related campaign for clean air...
NEWS from around the state
To report a violation of environmental regulations, please call the State of Oregon DEQ Hotline: 1-888-997-7888
What you can do...
Turn your engine off if you find yourself waiting for more than 20 seconds, unless you're driving in the flow of street traffic.
On cold mornings, don't idle. Driving is the best way to warm up the engine. To melt ice, slowly pour cold water over windshields.
Make an extra effort to reduce idling near schools, homes, parks and other places where you see children; they are more susceptible to the dangers of benzene exposure.
Urge local businesses to endorse our No Idling project. If you are a business owner, please contact us to see how you can become a Healthy Air Oregon business partner.
Encourage your local government leaders to adopt a No Idling policy.
Invite us to present to your business, religious group or non-profit. We are available by appointment to travel the state of Oregon.
---
A Cordial Invitation…
if you, your business or agency is not on the list of endorsers yet, we'd love to include you!
FORMS*
*all are electronic PDF forms that can be typed in to fill them out, then should be printed out, signed and sent in to us at this address:
Healthy Air Oregon Campaign
c/o Beyond Toxics
P.O. Box 1106
Eugene, OR 97440
We gladly accept donations towards our work to raise awareness about air pollution and the numerous benefits of ending the practice of vehicle idling while not in the flow of traffic.
Click on the button below and be sure to choose "Healthy Air Oregon" from the Program Designation drop-down menu. Or you can send in a check made out to: Beyond Toxics and send it to us at the address above. OR...you can donate online:
Now you can designate that your donation go directly to our work to improve air quality when you join! After clicking on the green button (below)...from the "Program Designation" drop-down option, simply choose "Healthy Air Oregon."
Beyond Toxics is a 501(c)(3) non-profit organization and all contributions are fully tax-deductible. Please consider giving a gift of a Beyond Toxics membership to a friend or family member!