NEWS FLASH: Governor John Kitzhaber just signed HB 3364 into law on June 4th!
Beyond Toxics defied the odds to mobilize passage of a bold and effective environmental protections law in the 2013 Oregon Legislature.
On June 4th, Governor Kitzhaber signed into law HB 3364, the State Integrated Pest Management Act, a law that will strengthen and improve coordination among state agency programs that implement Integrated Pest Management on state-owned and leased properties. Beyond Toxics brought this bill forward, navigated the amendment process and drove it all the way to the final affirmative landslide votes in the House and the Senate. It constitutes one of the strongest pesticide reduction laws in the nation.
The new law protects public health, including the most vulnerable members of our communities: children and the elderly. It safeguards our rivers, state forests and ecosystems. Overall, Oregon will see less pesticide use as well as more accountability and public input regarding state pesticide policy. The law also sets the stage for future improvements to forest practices and riparian restorations.
Terrific reaction to HB 3364 passing from our many supporters around the state:
Congratulations on the state IPM bill passing the Senate and winging
its way to the Gov's desk. This is such an important step forward. Thank you for doing the work you do. - Allison Hensey, Oregon Environmental Council
Thank you! Lisa and crew... thank you so much for this effort and
collaborative project. - Jill Davidson
Congratulations! This is a giant step forward for public health.
- Rachel's Friends Breast Cancer Coalition
That's awesome news! Congratulations, and thanks so much for all
your hard work! - Joanne Gross
See how your representatives in Salem voted
To see a history of the legislation, click here (Oregon Legislative Information System) and click on "Measure History"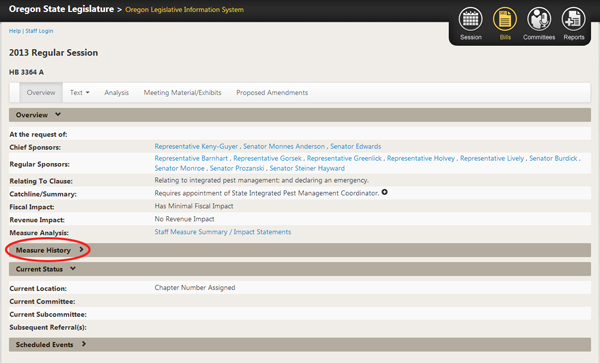 FULL SENATE PASSES HB 3364 BY A 24 TO 6 VOTE! 

The Oregon Senate voted 24–6 to approve HB 3364, a bill that strengthens and improves coordination among state agency programs that implement Integrated Pest Management on state-owned and leased properties. The bill passed in the Oregon House on a 51-9 vote earlier in this month. It now goes to the Governor's desk for final approval.
Chief bill sponsors are Senator Chris Edwards (D-Lane County) and Representative Alissa Keny-Guyer (D-Multnomah County). Dr. Paul Jepson, Oregon's State IPM Coordinator and a professor at Oregon State University, was a key champion of the bill.
"The passage of the bill shows strong bi-partisan support for better management of both pests and pest control strategies, as well as tracking and measuring the effectiveness of pesticides on public land," said Lisa Arkin, Executive Director of Beyond Toxics. "IPM programs consistently reduce pesticides while simultaneously solving pest problems."
A Victory Celebration is being planned for later next month. Check back here for updates!
The issue
You care about health and safety, so you work hard to keep pesticides away from your family and the food you eat. But there's still a problem.
Pesticides are routinely sprayed in the places you thought were safe…in public parks, in and around public buildings and on public roads. As a consequence, we are often exposed to poisons without even knowing it! To make things worse, pesticides drift or run-off away to nearby homes, bike paths, schools, rivers, and natural areas.  As a result, the range of their harm is increased. The scientific evidence is abundantly clear: pesticides are a public and environmental health problem, linked to persistent ecosystem damage and multiple chronic illnesses.
Our solution
By launching the Safe Public Places Project, Beyond Toxics is  calling for a "pesticides as a last option" policy (Integrated Pest Management) to manage pests on Oregon's public land. Our project aims for significant reduction goals in the amount of pesticides used in parks, in and around public buildings and on public roads throughout the state of Oregon. [Read the Safe Public Places Act 1-page summary]

HEAR: KUGN Radio Interview with Deanna Simon and Dr. Randy Phelps, MD, Ph.D. (aired 3/8/2013)
NOTE: This is an EXCELLENT interview that highlights the main talking points in favor of HB 3364. It features Deanna Simon, a renowned expert on integrated pest management, and Dr. Randy Phelps, Ph.D. a respected researcher with both OHSU and U of O who specializes in the effects of pesticides on children's health.
Show your support for the Safe Public Places Act by signing our campaign endorsement form. A list of endorsers will be submitted to the Oregon Legislature to support the bill.
---
IMPORTANT CAMPAIGN RESOURCES
NEW: "Poisoned Roads" (below) is the story of how rural residents of northern Klamath County were doused with a deadly pesticide in 2010.
Help us continue protecting residents of Oregon from the harm of chemical trespass...Simply click on the green button (below), then choose "Safe Public Places" from the "I want my donation to be designated toward..." drop-down option.
---
DO YOU HAVE A PESTICIDE EXPOSURE STORY?
Write to us: info@beyondtoxics.org
or
call the Beyond Toxics office in Eugene: 541-465-8860
---
Now you can designate that your donation go directly to this great program when you join! After clicking on the orange button (below), simply choose "Safe Public Places." from the "Program Designation" drop-down option.
Beyond Toxics is a 501(c)(3) non-profit organization and all contributions are fully tax-deductible. Please consider giving a gift of a Beyond Toxics membership to a friend or family member!