Climate Protection Program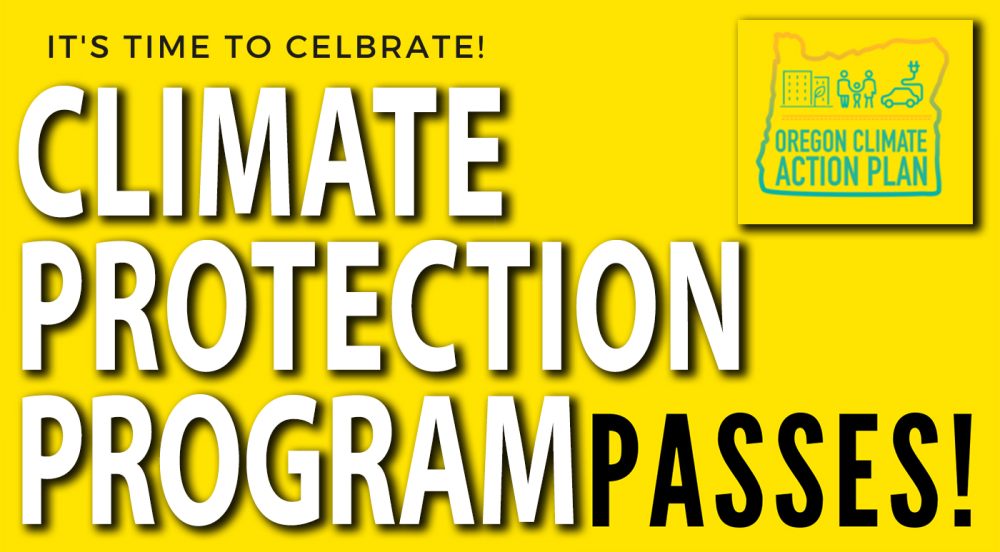 VICTORY!
Oregon just took one of its biggest steps ever toward reducing climate pollution and delivering a stable climate for the future. The Climate Protection Program adopted by the Oregon Environmental Quality Commission on December 16th will help secure a healthy climate future, invest in frontline communities, and hold corporate polluters accountable. This makes Oregon only the 3rd state to require reductions in harmful greenhouse gas emissions!
Key Highlights:
Science-based emissions targets for oil companies, fossil "natural" gas utilities, and major industrial facilities to cut their climate pollution in half by 2035.
Improved public health and resiliency for communities in Oregon most harmed by burning fossil fuels and climate change, saving billions of dollars annually in avoided health impacts.
Investments in clean energy projects to support job creation, economic vitality, and cleaner, cheaper, healthier energy and transportation options in communities of color, tribal, low-income, rural and coastal communities across the state.
Opportunities for technological innovation and advancement that will benefit Oregon's workers and consumers by transitioning to a clean energy economy.
The decision came after a robust year-and-a-half-long rulemaking process, extensive advocacy from climate and environmental justice advocates, and over 7,600 comments from the public!
THANK YOU for raising your voices to the Department of Environmental Quality and making the final program rules stronger for our climate and communities!
"This is a huge step forward for the climate and the health of communities across Oregon! The Department of Environmental Quality received record-setting number of comments from the public that were overwhelmingly in support of bold climate action and made the final program stronger. But our work is not over. We will have to keep a close eye on the implementation of this program to ensure that polluters are held accountable and that our frontline and rural communities receive the benefits they were promised."
~ Grace Brahler, Oregon Climate Action Plan & Policy Manager, Beyond Toxics