Get involved in the public hearings on the ODA proposed rulemaking changes
DEADLINE: October 1st!
Read more about the problem with chlorpyrifos
10 Steps You Need to Take When Suspecting Pesticide/Herbicide Drift – A Primer (PDF)
Oregon's Shame: Agent Orange In The Oregon Forests – HipFish Monthly / Sept. 2016  (PDF – 9Mb)
---
Read about what the DEQ is doing about protecting Oregon's water from pesticide pollution. New rules have been proposed and Beyond Toxics has submitted comments. These comments have been endorsed by 5 other northwest environmental organizations.
2300A General Permit Public Comment (PDF)
---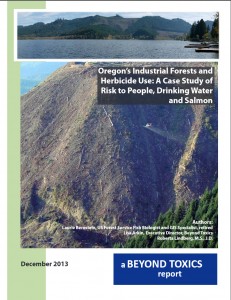 "Oregon's Industrial Forests and Herbicide Use: A Case Study of Risk to People, Drinking Water and Salmon"
Authors:
Laurie Bernstein, US Forest Service Fish Biologist and GIS Specialist, retired
Lisa Arkin, Executive Director, Beyond Toxics
Roberta Lindberg, M.S., J.D.
Download Report (2 versions; both PDF files)
——————————————————–
Public Education to Help Your Community Take Action
In 2010 Beyond Toxics published "Protecting Health in Your Community: A Guidebook for Organizing for Pesticide Reform" for wide distribution. This primer focuses on pesticide issues and is tailored toward Oregon residents. It was developed in response to the many inquiries we receive from small communities struggling to find a solution to pollution and poisoning from large-scale pesticide applications (e.g., forestry, agriculture, right-of-way, public property and public housing contracts). Read the primer Community Organizing Guide.
 Beyond Toxics Reports
VIDEO:
Professor Deke Gundersen shares knowledge both in and out of the classroom about the chemicals used by the timber industry and the health risks to fish and other animals that result from their use. This YouTube video was posted on May 28, 2020…
MORE:
————————————————-
The Triangle Lake chemical trespass story hits the national media: see the 10 min. video on PBS News Hour
Other resources:
---
OTHER RESOURCES
Testing for pesticides*
NOTE: Beyond Toxics cannot recommend one company over another, we are simply providing resources for consumers to investigate for themselves.
Glyphosate: #takethetest
Feed the World has set up the first ever validated glyphosate testing (LC/MS/MS) for the general public worldwide, which will be provided in the U.S. with the support of the Organic Consumers Association (OCA).
Multiple pesticides
Pacific Agricultural Laboratory
* If you know of other companies in Oregon that do this kind of testing, please contact me: info (at) beyondtoxics (dot) org and I will endeavor to add them. Thanks!
---
Won't you join us in imagining, and working for, a world beyond toxics?
Beyond Toxics is a 501(c)(3) non-profit organization and all contributions are fully tax-deductible. Please consider giving a gift of a Beyond Toxics membership to a friend or family member!