---
Phoenix Talent School Board has passed a moratorium on the use of glyphosate and 2-4D, and a policy that prioritizes organic pesticides as a last resort.
The School Board responded to the concerns of parents as well as the strong scientific record about the danger of low-level pesticide exposures in children. No longer should our children be exposed to cancer-causing and hormone disrupting pesticides on school playgrounds and sports fields. Congratulations to Rachel Hough and the team of parents who showed up and advocated for the Non Toxic Southern Oregon initiative.
NEW! Sign on letter campaign for school IPM->>
What is Non Toxic Oregon?
Our Non Toxic Oregon Project protects communities across Oregon from toxic pesticides in parks, sporting fields and schools, and along roadsides. Our goal is to help municipal and school leaders understand why adopting an organic land care approach is the key to keeping public places neat, beautiful and safe for children, pets, and pollinators.
We launched Non Toxic Oregon (NTO) in partnership with Beyond Pesticides which continues to work with us to provide training and consultation on adopting organic land care practices. We are proud to announce a growing number of local governments, including the cities of Eugene, Springfield, Ashland and Talent, as well as Lane County, have committed to NTO pilot projects to end the use of all toxic pesticides and chemical fertilizers on public land.
Non Toxic Oregon is perfect for cities, counties and communities throughout Oregon. In Southern Oregon, we created Non Toxic Southern Oregon, which works in partnership with Pollinator Project Rogue Valley, UNETE: Center for Farm Worker and Immigrant Advocacy and others. The southern Oregon branch of Non Toxic Oregon is tackling the problem of roadside herbicide sprays, an exposure issue for communities across Oregon.
Please DONATE TODAY to support this vital project!
Non Toxic Schools and Parks
Despite warnings from top childhood health experts around the world that pesticides pose considerable risks to children, many cities and schools still use multiple poisons to control weeds and pests in parks and on playgrounds and ball fields. Anticoagulants (chemicals that prevent blood from clotting) are used to kill rodents, despite the extreme danger these pesticides pose to pets, birds and children. Alternatives to these poisons are available, can be cost-effective and, importantly, keep children safe from pesticide exposure.
Prioritizing Children's Health
NEW: Non Toxic Oregon Guide To Building a Campaign to Protect Children's Health (PDF)
Children, who are more vulnerable to harm from dangerous pesticides, spend most of their childhood in schools, playgrounds, parks and ball fields. They deserve our commitment to adopt practices that emphasize their health over the use of poisons in the places where they spend their developmental years.
Non Toxic Cities
We believe that when people visit public spaces they have the right to be free from exposure to harmful chemicals known to cause cancer, learning disabilities, immune diseases and other health problems. Parks are an important gathering place for families with children and pets, and parents need to know that their children are able to run barefoot and roll in the grass without fear of contamination from pesticides.
Family pets are vulnerable too
Pets are beloved members of many families and depend on their human caregivers to keep them safe. Dogs and cats can absorb the chemicals in pesticides and fertilizers and can experience the same reactions to pesticide exposure as people. These reactions may include rashes, nausea and vomiting, eye irritations, and breathing problems. Pets can also bring these chemicals inside the home on their fur and paws. Dogs are particularly susceptible to disease and death from some common pesticides. Common lawn pesticides are detectable in dogs' urine and have been found to cause higher rates of cancer in dogs.
How can my community make the switch?
Our approach to helping Oregon communities, cities, counties, and schools transition from using synthetic pesticides to organic landscape and pest control techniques is based on creating healthy, microbe-rich soils using organic inputs. Healthy soils nurture desired plants and keep them strong so that unwanted weeds don't have a chance to become established. Organic approaches to land care works on lawns, ball fields, golf courses and playgrounds.
Eugene/Springfield
We are proud that Lane County Parks Department, the City of Eugene and Willamalane Park District in the City of Springfield are participating in Non Toxics Oregon by converting park grounds over to organic land care management! The University of Oregon Bee Campus is actively exploring those possibilities for updating landscaping practices and sporting fields. These model programs are having an exciting rippling effect up the Willamette Valley.
Non Toxic Southern Oregon
From our office in Phoenix, we are working with Pollinator Project Rogue Valley and UNETE: Center for Farm Worker and Immigrant Advocacy. In Jackson County, we are supporting communities to create Non Toxic Cities in Talent, Jacksonville, Medford, and Phoenix. In Josephine County, we are supporting communities to create Non Toxic Cities in Grants Pass and Williams.
NEW!
Roadside Herbicide Spray Record Data for Jackson County, Oregon (April 2018 to April 2019): A report from the Non Toxics Roadsides Campaign of Non Toxic Southern Oregon
Non Toxic Roadsides
We are also working with county agencies to help reduce the amount of toxic pesticides used along county roads. These chemicals are some of the most toxic in the industry and infiltrate our waterways, drift in the air, and remain in the soil for months, if not years.
If your community is interested in being part of Non Toxic Oregon,
please click on the button below and fill out our initial interest form.

Why is this important?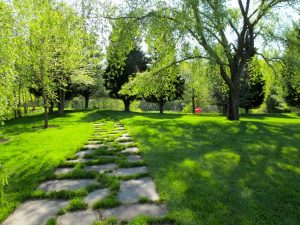 • Health. Chemicals disrupt our body's natural functions, resulting in harm to our health. Pesticides can cause cancer, endocrine disruption and neurological damage. Recent research has revealed that the common pesticides we're using are associated with diseases never before suspected, such as diabetes. Scientists now know that glyphosate, the primary chemical in Roundup, can affect the genetics of offspring for several generations.
For children, small exposures can have big consequences. Now that we know that pesticides are in the food we eat ("Toxic Secret: Pesticides uncovered in store brand cereal, applesauce, beans and produce," – Friends of the Earth), isn't it time to make a change? It's not about what exposure is going to do to a child today, but rather what it will do 10, 20, 30 years later?
• Climate. Pesticides and fertilizers are made from petroleum-based ingredients, adding to global CO2 emissions. They also reduce the ability of soils to store carbon by killing beneficial soil microbes.
• Water. Practicing organic land care has been proven to reduce irrigation water use compared to pesticide-dependent landscaping, thus providing significant cost savings. As soil becomes more fertile and better able to retain water, irrigation can be reduced from once a day to once a week.
• Environment. In many cases, getting the basic ingredients of pesticides requires extensive, destructive mining for minerals like phosphate and potassium. Mining can permanently destroy entire landscapes and pollute water and degrade air quality. Manufacturing and processing facilities also poison communities by polluting their local air, soils and surface and ground water. This in turn can kill local wildlife and destroy local fishing and hunting opportunities.
Studies show that many pesticides used on plants – herbicides – can have a long residual, some up to months and years. Earthworms are less capable of reproducing, good soil bacteria die, and the ground becomes hard and lifeless. Some herbicides can even impact the navigational ability of honey bees! And consider that many of the plants considered weeds by chemical companies, such as dandelions, self-heal, vetch, and more, are actually beneficial to pollinators and sometimes people!
Pesticides used to kill insect pests, like the neonicotinoid class of insecticides, also persist in soil and growing plants. These systemic pesticides are taken up by the plant, thus the entire plant becomes an insecticide and harming any bee or butterfly that eat the pollen or nectar, or take it back to their nest.
Progress for a Non Toxic Oregon
On May 9, 2018 Beyond Toxics launched the Non Toxic Oregon program in Southern Oregon with the help of Osborne Organics, Non Toxic Neighborhoods, Pollinator Project Rogue Valley and Verdant Phoenix to create Non Toxic Southern Oregon. Our team that made a difference by presenting compelling science and successful model projects to the City of Talent Mayor, City Council and Parks Commission. With scientific evidence and the support of the Non Toxic Oregon team, the Mayor and City Council voted to draft a plan to implement Non Toxic Talent and phase out the city's use of synthetic pesticides and fertilizers on city parks and rights of way. See their groundbreaking Integrated Pest Management Plan, adopted 12/5/2018.
This was our first success! The team gave incredible presentations to city officials. With such compelling scientific evidence, the Mayor and City Council voted to draft a plan to implement Non Toxic Talent and phase out the city's use of synthetic pesticides and fertilizers on city parks and rights of way. The Talent School District also attended the presentation and parents hope they will adopt a companion plan to the City's plan.
What Can You Do?

You can act now to bring positive change to your own community, city, school or county! Organic-based pest maintenance systems work! We're seeking community partners to host in-person and video-conferencing workshops across the state. With our video-conferencing workshop, we can bring the nation's experts right to your community meeting center, school board meeting or city council public session! We are working with a great team of soil specialists, health experts, landscape specialists and organic advisers. They are all eager to help your community become Non Toxic!
Please contact us to launch a Non Toxic Oregon program in your part of Oregon! We'd be happy to partner with you!
Please DONATE TODAY to support this vital project!
---

For more information about how you can get involved, contact Beyond Toxics:
541-465-8860 / email: info@beyondtoxics.org
---