Bees are really cool. I have two different bee families happily buzzing and sipping nectar in my backyard. One was a real surprise! I had put out a beautiful bird house that I bought from a vendor at Saturday Market. Instead of a family of finches, I attracted a batch of bumble bees. I see them going in and out of the opening into which they stuffed bits of fluff and string to give themselves privacy!
My second bee family is humming along in a traditional bee box hive. Like the bumble bee crew, the honey bees were gifted a cheerfully painted box from my neighbor Linda, an artist who usually paints furniture and flower boxes. Her bee hive design is wonderful!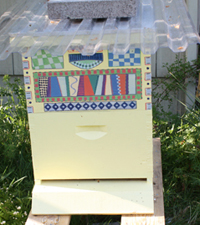 I love knowing that my bees are visiting the flowers and vegetables of my neighbors as far away as a few miles, helping to make food grow and bring native plants to life.
I am able to host the bee hive because I have pledged to be pesticide-free, and all the neighbors on my block have taken the same pledge. Nearby Washington Park is also a No-Spray zone, which the Friendly Area Neighbors work hard to maintain without the use of harmful chemicals in partnership with the City of Eugene. Local beekeepers Jen and Doug Hornaday are introducing bee hives and doing the actual beekeeping for residents like me who pledge to make our neighborhoods safe for bees (and kids)! I really want to thank Jen and Doug for helping learn how awesome bees are and helping me host a hive in my backyard.
Bees. Gardens. Food. Health. The Future.
These five things are all related, and intimately so. As the bee goes, so do we. Seventy-five percent of all the flowering plants in North America needs pollination from an insect or bird; bees are the most prodigious pollinator of them all! According to The Daily Green news, a recent National Academy of Sciences report documented a crisis among honey bees and native bumblebees. European studies have documented similar declines in pollinators there. It is a global phenomenon related to the use of pesticides (and other related practices).
If bees disappeared from North America, or from the earth for that matter, a chain of events would be set in motion leading to plant extinctions, crop failures, and eventually famine.
We can make sure this doesn't happen in our cities, our counties and Oregon! It is so easy to take action that has meaningful and long-lasting results. All you have to do is take the Honey Bee Friend pledge and become a messenger for the sake of the bees in your immediate block. Tell your neighbors how they can pledge, too! And you can help us help the Hornadays build hive boxes and nurture bees throughout our community by becoming one of 1000 Save Oregon's Bees. We would appreciate your donation of $10 (or more) toward this worthy cause! (from the "Program Designation" option near the top of the page, simply choose the 1000 Save Oregon's Bees by clicking on the down arrow). We need and very much appreciate your support for this project!
I'll let you know when the honey is ripe and I have a garden party to celebrate.
Lisa Arkin, Executive Director