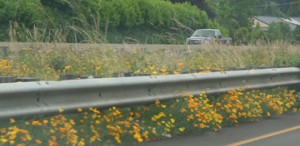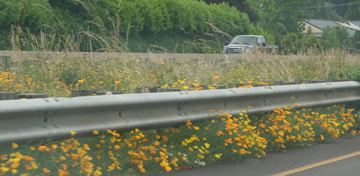 A new report, released in late August, provides Oregonians with an assessment of the environmental impact of pesticides on five state highways.
Eugene, OR, August 30, 2011: A new environmental health report for pesticide use on state highways in Lane County uses mathematical formulas to assess the overall and average health impacts of chemicals used to control weeds. The data-driven assessment indicates a relationship between pesticide uses on state highways and human health. The report, prepared by Oregon Toxics Alliance, measures and compares pesticide application trends across Highways 36, 58, 126-W, 126-E and OR 569 (the Randy Papé Beltway) and provides recommendations to the Oregon Department of Transportation (ODOT) to reduce risks to people and the environment.
OTA is currently working together with ODOT to manage parts of Highway 36 without the use of pesticides. The Alliance also works with communities throughout the state to find practical ways to reduce pesticides.
According to the report, the greatest negative environmental health impact from pesticide use occurs on the Randy Papé Beltway (also called OR 569 or Beltline Highway), a commuter route serving heavily populated sections of the Eugene metro area.
The report was written in response to Oregonians' concerns about health risks from pesticide drift and run-off," says Arkin. "We get complaints from people who get sick from breathing in pesticide vapors from the practice of using pesticides to kill weeds along the edges of highways.
This is the first prospective study that shows data-driven input useful for the development of balanced, rational policies that reduce the risks of pesticide use while providing practical solutions along with environmental protection strategies. The report also references a Human Rights Assessment for pesticides on public highways that was commissioned by the Alliance.
Register Guard's editorial on Measuring sprays' effects: Scoring herbicides' impacts provides useful tool. You can view the actual copy of the scanned newspaper article here. (9/6/2011)