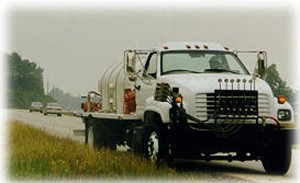 When you drive home today, will you be putting your health at risk?
That is the question Beyond Toxics put to the Director of Oregon Department of Transportation (ODOT) yesterday in a one-on-one meeting. Dr. Tom Kerns, one of our board members, and I sat down with Matt Garrett to discuss our recently released report "Assessing Environmental Impact Quotients for Pesticide Use on State Highways in Lane County" and get his response to the report's recommendations.
In that report, we expose three main things:
1. ODOT has never before measured the environmental impact of their use of herbicides to manage roadside weeds. Our report was written to provide them a model to do so. (After all, if a tiny, hard working non-profit could do such a helpful analysis, why can't one of the state's largest agencies?)
2. The greatest health risk to exposure to pesticides on any of the highways in Lane County occurs on the Randy Papé Beltway (formerly known in Eugene as Beltline Highway). This very short stretch of highway in the middle of Eugene has as much as five times greater magnitude of environmental health harm that any other highway in Lane County.
3. ODOT's herbicides spray program directs their employees to spray dangerous, probable carcinogens and endocrine disruptors many times, every year, along highways that are directly next to bike paths, apartment buildings, homes, schools, bus stops, churches and businesses, not to mention the rivers, wetlands and rare native salmon habitat. We, the public, need ODOT to consider ways to reduce or eliminate the resulting harm for people, pets, animals, and fish.
Case in point … Garrett was interested, engaging and polite as we talked. But as the subject progressed to specific recommendations – such as does ODOT have a policy not to spray pesticides next to schools and school bus stops? – he balked. He hemmed and hawed. Then he insisted that ODOT may not need a policy because his employees were "people who use and live along highways too, so they would naturally be careful about using pesticides."
Not so, I told him! Employees do as they are told. ODOT employees are told to spray pesticides, and a lot of them. I reminded him that there has been no direction from the person at the top – from the Director's office – to prioritize environmental protection, to reduce pesticides, to protect people while carrying out ODOT activities. Other state DOT's such as Washington have implemented strong and effective policies to protect the environment, and they aren't afraid to promote the value of reducing pesticides.
Dr. Kerns and I pressed harder. We know our science and we know about the right to clean air and water. We work hard to educate about the rights of children to special protections from chemical trespass.
We argued that the research clearly shows that children are especially vulnerable to being poisoned by pesticides. Their nervous system and reproductive organs are more susceptible to neurotoxicity.
Why?
Mr. Garrett agreed to look into whether or not ODOT has a policy to establish buffer zones of safety from pesticide harm around schools and school bus stops.
I urge you, the person reading this post, to consider protecting children from pesticides as a dire problem and critical to accomplish. And, our proposed solution for ODOT, to measure and institute reductions and alternatives pesticides everywhere, is imperative because ODOT is the largest single user of pesticides in the State system.
If we are to begin a paradigm shift to reduce harm and protect the environment, we must start with a commitment to protect the healthy development of children. There shouldn't be any "if"s, "and's," or "but's" when it comes to protecting Oregon's kids from exposure to chemicals that can make them sick or kill them ODOT must lead the way by eliminating pesticides anywhere near where children hang out is absolutely non-trivial. It is essential and effective action.
We are waiting to hear back from Mr. Garrett about when ODOT will make the right decision to protect school children from pesticides on their way to and from school.