(R) Arjorie Arberry-Baribeault, West Eugene Community Organizer and her daughter, Zion (L). Photo courtesy of Collin Bell
Working as the West Eugene Community Organizer, I have heard heartbreaking stories. Residents express their fear of being the next victim of chronic illness in a polluted neighborhood, and I, too, live in constant fear of cancer. When my family moved to West Eugene, we trusted the laws to protect us, only to discover that the Bethel community has long suffered from environmental racism. Growing up in low-income black neighborhoods in Texas, I accepted the constant threat of chronic disease and related hardships as the norm.
Raising awareness in marginalized communities is crucial. Beyond Toxics bridges the gap between the city, state, and community, empowering leaders and advocating for the Public Health Overlay Zone Policy. This policy would, if implemented, create a buffer zone to protect public health by separating heavy industry from residential areas.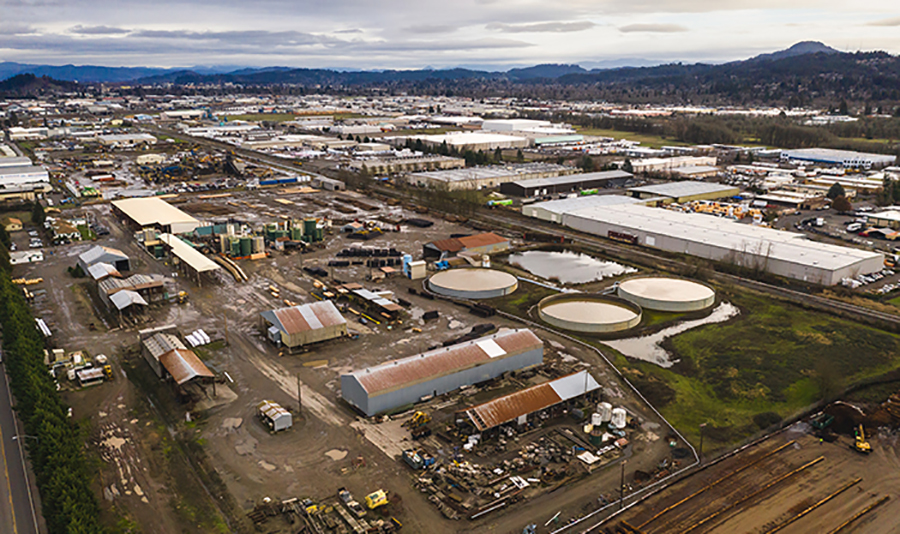 J.H. Baxter creosote factory quit operations in Jan. 2022. It operated for 80 years in the midst of a West Eugene residential neighborhood.
Currently, there are no safeguards in place to prevent pollution and protect communities. The urgent need for protection extends beyond West Eugene to the entire city, state, and even worldwide. Implementing preventative measures would have spared my child from cancer and prevented countless preventable illnesses.
Arjorie (R) with friend Laurie and her daughter Savannah in front of the shuttered J.H. Baxter creosote factory. Photo by Lisa Arkin
Our homes should be sanctuaries, but environmental racism has disrupted that tranquility. Equity is lacking as families no longer feel safe in their own yards. Our parks and schools should be safe places for children to play and grow, free from concerns about cancer or asthma. No child should have to fear being the next victim of illness.
Creating change requires raising awareness, empowering communities, and implementing protective policies. We must ensure that industry is never allowed near homes, parks, schools, and other community spaces. Let's work together to build a world where our children look forward to positive achievements and never cower in fear of devastating sickness. Let's strive for a world where children no longer feel the need to ask, "Am I next?"
Written by Arjorie Arberry-Baribeault,
West Eugene Community Organizer for Beyond Toxics