Arjorie Arberry-Baribeault, West Eugene Community Organizer for Beyond Toxics.
On Monday, October 23rd, the Eugene City Council voted unanimously to adopt the concept of Public Health Protection Zoning, what we have been calling a Public Health Overlay Zone! The City Manager will next draft an ordinance to include public health requirements in Eugene's zoning laws. This represents a historic win for environmental justice, as we will be the first city in Oregon to adopt this innovative concept!
I moved to west Eugene as a teenager in the '90s and later raised three children there.
While raising my children in west Eugene, we spent plenty of time in parks or swimming in the neighborhood pool. Our family lived in the Bethel School District where we embraced playing outdoors, engaged in team sports and enjoyed time in public spaces with friends and family. I tried to take my children to the park every day, rain or shine.
We felt safe and at home in west Eugene. Plus it was affordable in those days! Historically, housing tended to be less expensive in this community, which was crucial to our family, as it is to other low income, working class families. We felt a sense of security and belonging in the neighborhood; we never suspected the dangers that surrounded us or the threats of industrial pollution that would impact my family forever.
In the heart of Bethel, over 30 industrial facilities loom over the landscape, including wood preservation companies spewing dangerous air toxins regularly. Combined with the ceaseless traffic on 3 busy highways, our community is constantly inundated with diesel emissions on top of the industrial air pollutants. For years we breathed in air laden with dangerous industrial pollutants.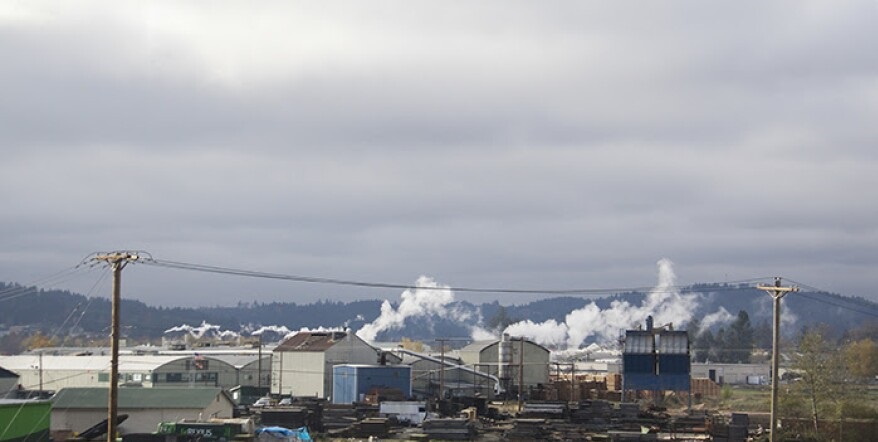 Polluting factories are a common sight near residential areas of West Eugene.
We were surrounded by industrial sources of pollution, but I had always thought, 'they're just doing business, right?' Living so close to industry, it never bothered us that our homes were located near smokestacks that emitted clouds of "smoke." What they were releasing was not necessarily our concern. At the time I told myself things like "Surely, we wouldn't be subjected to anything that could hurt us". And "Certainly, the city is aware of what can happen when factories are allowed to operate near homes, schools, parks and other community spaces." We had no clue that behind those innocent-looking smoke-stacks lay something more sinister than we ever dared to imagine.
While it was a blow to learn just how naive it was to believe that our city had strong public health regulations in place, my faith in society's ability to protect public health from harm was completely shattered the day my family heard the doctor's diagnosis: 'Zion has Hodgkin's Lymphoma'. I have shared my story of being a mother of a childhood cancer survivor before, but the impact of her battle and survival from illness changed my life. And, I believe, her difficult journey left a lasting impression on the power of community advocacy. With our victory from the Eugene City Council's October vote*, my faith in the power of community action has been renewed and my hope for a better future restored! The struggles of folks in this neighborhood, who have been made vulnerable and burdened with sickness and in some cases death of loved ones, have finally been recognized as a cause for concern by the powers that be!
This new zoning ordinance will, potentially, take effect citywide in order to help protect the community from the dangers of industrial pollution in our neighborhoods. One of the ways this concept will improve the safety of our neighborhoods will be to create a quarter-mile buffer between industrial facilities and residential, park, and school zones. This is a brand new concept and it will take time to work out the details, but it represents an extraordinary moment in west Eugene's history. This is a big victory for the environmental justice movement!
Thank you to all who have supported making history by your compelling testimonies and hard work to bring this into fruition. Congratulations, Eugene!
~ Arjorie Arberry-Baribeault, West Eugene Community Organizer